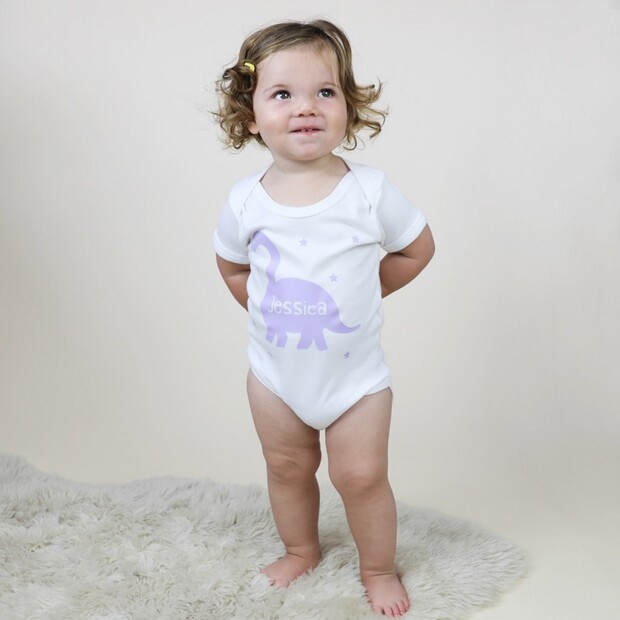 Dimensions
0 - 3 months: sleeve to sleeve - 31.5cm
3 - 6 months: sleeve to sleeve - 33.5cm
6 - 12 months: sleeve to sleeve - 36.5cm
12 - 18 months: sleeve to sleeve - 40cm
Made from
cotton, vinyl
Product code
23807
Personalised Dinosaur Short Sleeved White Babygrow
Standard delivery between 18th December and 21st December - Free when you spend $46.50
Express Courier Delivery by 14th December when you order within 3 Hrs 53 Mins
The most adorable babygrows you've ever seen
A super soft 100% cotton body suit in white
With short sleeves, and three popper buttons at the bottom
In 4 sizes ranging from 0 - 3 months to 12 - 18 months
Personalised with a dinosaur and your name of choice in vinyl
From the Lisa Angel Accessories Collection
Personalisation: choose a t-rex, diplodocus, or triceratops shape, and type your name of choice to be cut from the centre of the dinosaur. Choose your vinyl colour from turquoise, lilac, and dark green.
Character limit: up to 8 characters including spaces and punctuation. Please note, your font size will be reduced depending on your dinosaur choice, for example an 8 letter name on the t-rex will be quite small!
Read Our Guide to Personalisation >>
Dimensions
0 - 3 months: sleeve to sleeve - 31.5cm
3 - 6 months: sleeve to sleeve - 33.5cm
6 - 12 months: sleeve to sleeve - 36.5cm
12 - 18 months: sleeve to sleeve - 40cm
Made from
cotton, vinyl
Product code
23807
Reviews
This product hasn't been reviewed yet.

We'd love to hear what you think of your purchases. Look out for an email asking for feedback after your order arrives.
Delivery
Delivery to United States
Economy Tracked Delivery
USPS
-
more info
est. delivery: Mon 18th - Thu 21st Dec
FREE on orders $46.50+ or $5.50
Express Courier Delivery
DHL Express
-
more info
est. delivery: Wed 13th - Thu 14th Dec
$20
Worldwide Delivery
​