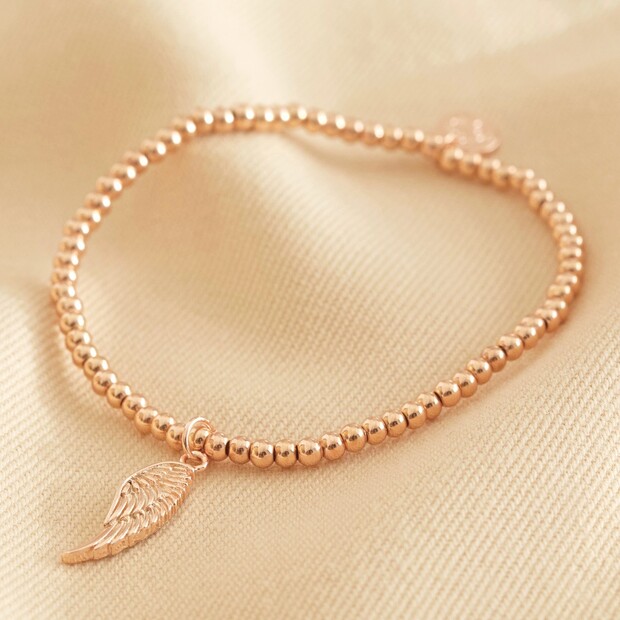 Dimensions
inner circumference - 17cm
wing charm - width 6mm x length 18mm x depth 2mm
Made from
rose gold plated metal
Product code
25112
Beaded Wing Charm Bracelet in Rose Gold
Standard delivery between 15th December and 20th December - Free when you spend $46.50
Express Courier Delivery by 14th December when you order within 3 Hrs 44 Mins
A beautiful beaded bracelet with a small angel wing charm
Shining rose gold plated metal beads threaded onto jewellery elastic
A gorgeous piece of ladies' fashion jewellery
From the Lisa Angel Delicate Jewellery Collection
Recent Reviews
Present for my neice which was exactly as described and disp...Read More
love this bracelet great gift for end of term present for te...Read More
Dimensions
inner circumference - 17cm
wing charm - width 6mm x length 18mm x depth 2mm
Made from
rose gold plated metal
Product code
25112
Reviews
Really pretty bracelet
4 months ago
love this bracelet great gift for end of term present for teacher
6 years ago
It's really nice i really like it it looks good on but I've worn it just a handful of times and is changing colour and i can't wear it anymore. So I feel it's to expensive for the quality.
6 years ago
Present for my neice which was exactly as described and dispatched within same day of order
6 years ago

We'd love to hear what you think of your purchases. Look out for an email asking for feedback after your order arrives.
Delivery
Delivery to United States
Economy Tracked Delivery
USPS
-
more info
est. delivery: Fri 15th - Wed 20th Dec
FREE on orders $46.50+ or $5.50
Express Courier Delivery
DHL Express
-
more info
est. delivery: Wed 13th - Thu 14th Dec
$20
Worldwide Delivery
​