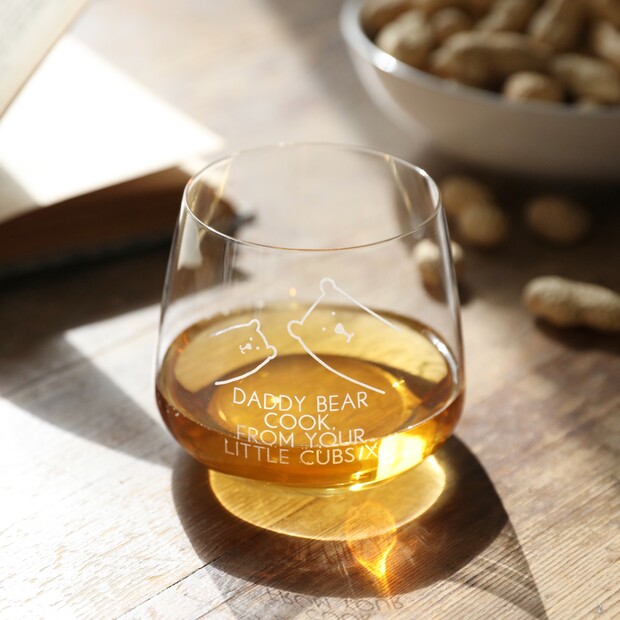 Dimensions
width 9cm x height 9cm x depth 9cm
capacity - 115ml
Made from
glass
Product code
27824
Personalised 'Daddy Bear' Whiskey Glass
Standard delivery between 14th December and 22nd December - Free when you spend $46.50
Express Courier Delivery by 12th December when you order within 17 Hrs 54 Mins
The perfect Father's Day gift for a cuddly daddy bear!
A flat base whiskey tumbler engraved with bear illustrations
With your own message engraved below the smiling bears
A brilliant personalised gift for a teddy bear of a dad
From the Lisa Angel Home Collection
Personalisation: type your message into the personalisation boxes to be engraved below the bears.
Character limits: up to 4 lines with up to 15 characters per line including spaces and punctuation.
Read Our Guide to Personalisation >>
Dimensions
width 9cm x height 9cm x depth 9cm
capacity - 115ml
Made from
glass
Product code
27824
Reviews
This product hasn't been reviewed yet.

We'd love to hear what you think of your purchases. Look out for an email asking for feedback after your order arrives.
Delivery
Delivery to United States
Economy Tracked Delivery
USPS
-
more info
est. delivery: Thu 14th - Fri 22nd Dec
FREE on orders $46.50+ or $5.50
Express Courier Delivery
DHL Express
-
more info
est. delivery: Mon 11th - Tue 12th Dec
$20
Worldwide Delivery
​