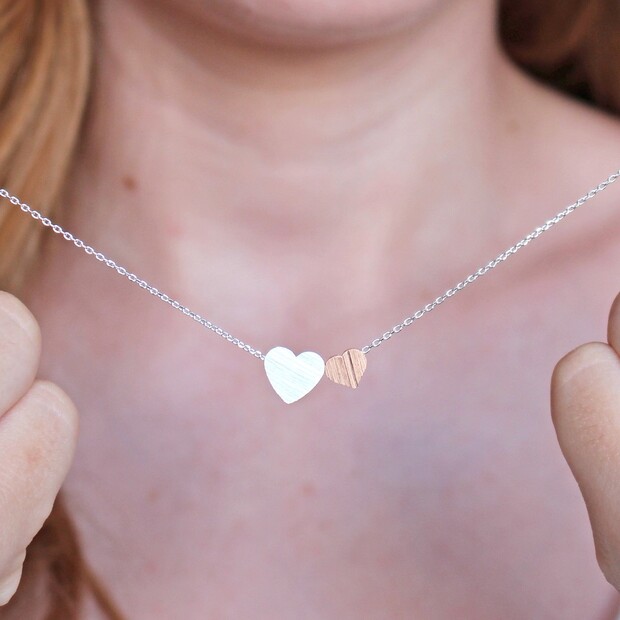 Dimensions
necklace length - can be worn at 41cm (16") or 46cm (18")
large heart - width 10mm x height 9mm x depth 2mm
small heart - width 7mm x height 6mm x depth 2mm
Made from
18ct rose gold plated brass, sterling silver plated brass
Product code
26173
Brushed Double Heart Necklace in Silver & Rose Gold
Standard delivery between 8th December and 18th December - Free when you spend $46.50
Express Courier Delivery by 7th December when you order within 6 Hrs 51 Mins
A ladies' double heart shaped pendant necklace
Made of 925 silver plated and 18ct rose gold plated brass
Attached to a trace chain with a lobster clasp to secure
Two link rings on the chain allow you to choose your length
A wonderful piece of heart jewellery for her
From the Lisa Angel Delicate Collection
Recent Reviews
Brilliant service, quick delivery
Very pleased with the item
Such a pretty necklace. Brilliant value for money.
Unique and delicate design
Looks delicate and pretty. Just what I wanted.
Dimensions
necklace length - can be worn at 41cm (16") or 46cm (18")
large heart - width 10mm x height 9mm x depth 2mm
small heart - width 7mm x height 6mm x depth 2mm
Made from
18ct rose gold plated brass, sterling silver plated brass
Product code
26173
Reviews
Lovely necklace but thought it might be a little bigger.
12 months ago
Brilliant service, quick delivery
1 year ago
The recipient of this gift loves it. I will order more jewellery from Lisa Angel in the future.
1 year ago
Lovely, simple and elegant. Wanted something that I could wear with anything for anything.
3 years ago
Very pleased with the item
3 years ago

We'd love to hear what you think of your purchases. Look out for an email asking for feedback after your order arrives.
Load More Reviews
Delivery
Delivery to United States
Economy Tracked Delivery
USPS
-
more info
est. delivery: Fri 8th - Mon 18th Dec
FREE on orders $46.50+ or $5.50
Express Courier Delivery
DHL Express
-
more info
est. delivery: Wed 6th - Thu 7th Dec
$20
Worldwide Delivery
​